One of the reasons termites are so dangerous is that the damage they incur is nearly undetectable until it is too late. While specific physical signs may confirm the presence of termites, these pests are not easy to catch. Subterranean termites hide in plain sight by burrowing into the wood and foundation below the home. Two popular areas where termites like to build their nests are inside the walls or under concrete slabs. The MABI injection system is a great way to treat these areas and eliminate termites before the damage becomes severe.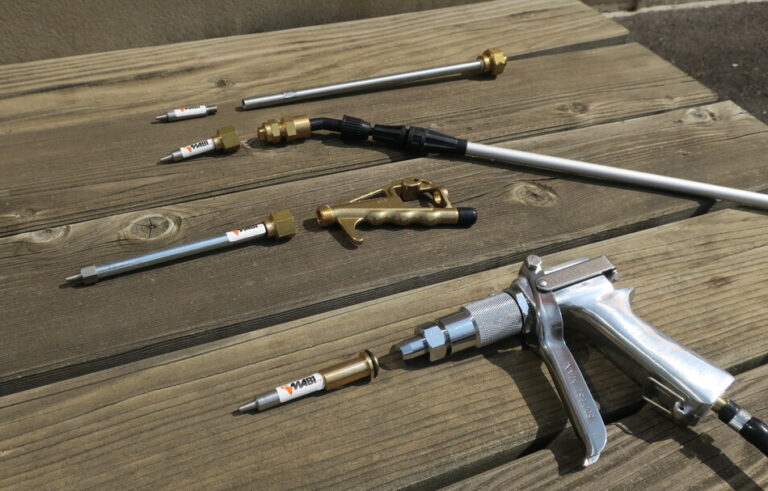 But you are probably familiar with the different types of termites, and you have likely read about MABI injectors too. The next logical question is, will MABI injectors work for me? And if so, how can I use them with my current equipment? Look no further. We show you just how easy the switch to MABI injectors can be. There is no need to buy all new equipment (a simple injection tip will do) or completely change your current system. We are here to explain what you need to adapt your equipment to help you adopt the MABI injection system.
Adapting your current termite equipment
What equipment are you currently using for your termite treatments? The answer to this, of course, depends on the type of treatments you propose and your personal preferences. Whether your equipment is more for above-ground or below-ground applications, there are many reliable options on the market. For some jobs you may use a 200 gallon termite spray rig and for others a smaller, more portable sprayer. Maybe you specialize in sub-slab treatments using the rodding method or perhaps you simply prefer how a spray gun handles. Regardless of the equipment you already use and own, adapting it to use MABI injectors is easier than you think. Simply screw on the MABI injection tip (or in the case of a spray gun, the injection tip + adapter) and you're ready to go! You can now easily treat wall voids or sub-slabs with liquid or foam products. The trick is in the MABI injection tip.
No matter what your equipment preference, to use MABI injectors, you'll need the specifically designed MABI injection tip. With its cone-shaped design, the injection tip fits seamlessly into the opening of MABI injectors. When inserted into the injector, the cone tip creates a tight seal allowing you to carefully inject your chemical liquid or foam without having to worry about product leakage. This specific design enables you to inject without worrying about inserting the injection tip too far or damaging the injector. The injection tip itself does not touch or move the no-return check valve, it is instead the pressure that pushes the metal ball. Additionally, there is no need to worry about the having the right size for the right injector as the injection tip fits all three MABI injector sizes, ¼", ⅜", and ½".
To adopt the MABI system for use with your current equipment, we have several options available for various types of equipment. From two different injection tip attachments (for use with a rod vs a sprayer for example) to the injection tip plus an adapter, we've got you covered.
Benefits of MABI injector plugs
MABI injectors use a unique, patented anti-return system that allows for high-pressure injections without backflow. Whether using liquid or foam termiticide, both application processes tend to have one issue in common. Due to the nature of the product, product leakage can occur during and even after injection. This leakage may result in a messy workspace and unintentional product waste. Since everyone knows that time is money, minimizing the time spent cleaning up is essential. Using MABI injectors for your termite treatments can help eliminate this unnecessary mess and waste of money.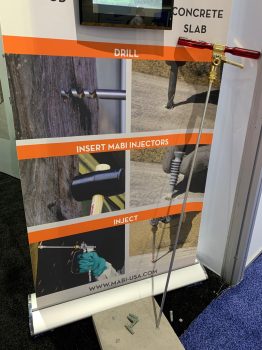 Additionally, MABI injectors allow you to re-treat the injection site if necessary. In some cases, one treatment will not entirely remove the termite colony. As MABI injectors remain inside the drill site, they are easy and always ready for reuse. Rather than drilling a second hole, you can easily reinject your desired termiticide a second or third time. While you hopefully will not need to treat so often, the MABI system gives you this option if required. In between treatments, to protect the injector plug or for aesthetic purposes, you can cover the injectors with caps. 
How to adapt your termite equipment
B&G rod → MABI injection tip
If using a B&G rod, the only additional tool you need is this one. The injection tip easily screws onto the narrow end of the rod, creating a tight connection. The tapered end will fit seamlessly into the injector plug and is ready for application. This tool works with the 12 and 40-inch B&G termite rods.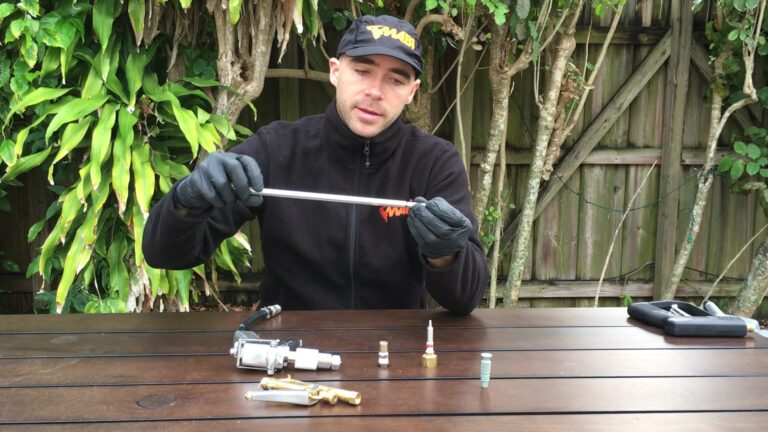 JD9 gun → MABI injection tip + MABI adapter
For the JD9 gun, you will need two separate tools: the MABI injection tip and the MABI adapter. (You may also use these with the MD9 or GES 505 guns.) To start, unscrew the nut from the end of your JD9 gun. Next, attach the injection tip to the adapter by screwing them together. Then, place the adapter onto the end of the JD9 gun, pass the nut over the injection tip, and screw the nut back into place. You can now use your JD9 gun with the MABI injection system.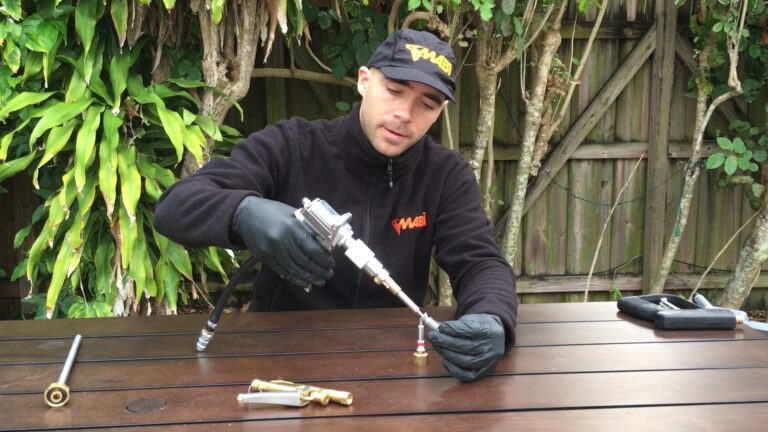 Actisol wand/ B&G sprayer → MABI injection combo + internal stopper
If you use either of these, you'll need this combo tool with a special nut and the stopper ring that goes inside. First, place the stopper ring inside the nut. Then, screw the nut directly onto the end of your wand or sprayer, and you can now use either with MABI injectors.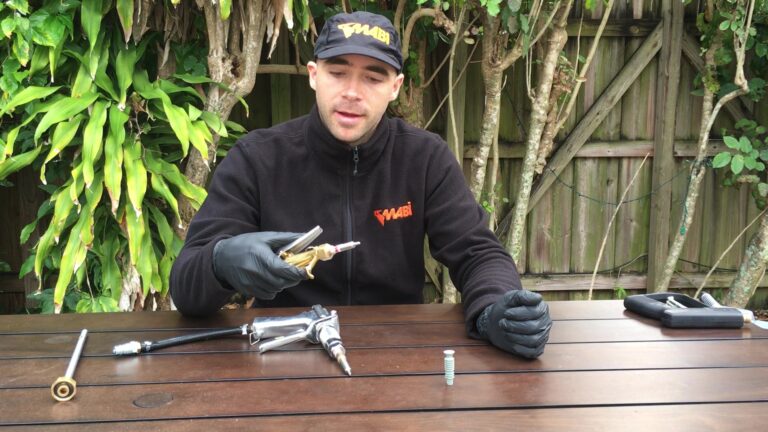 MABI injectors + accessories
Whether the termite infestation is in your walls or the foundation, MABI injectors can help get the job done, offering you two types of injectors.
Wood treatment

– For termite wood treatments, these injectors are available in three different colors (brown, beige, and white) and two diameters (1/4″ or 3/8″).

Concrete slab

or

Wall

– For termite treatment under a concrete slab or behind wall voids, these 1/2″ diameter injectors are available in grey and white.
Additional tools and accessories are available to help with the application process, such as the sinking tool, diffusing tubes, and caps to cover the injectors. If you have questions about your equipment compatibility or the MABI injection system, contact us, we'll be happy to help.
Contact your MABI distributor to order MABI injectors and accessories.