HOW TO FIX CONCRETE CRACKS AND SEAL LEAKS IN CONCRETE?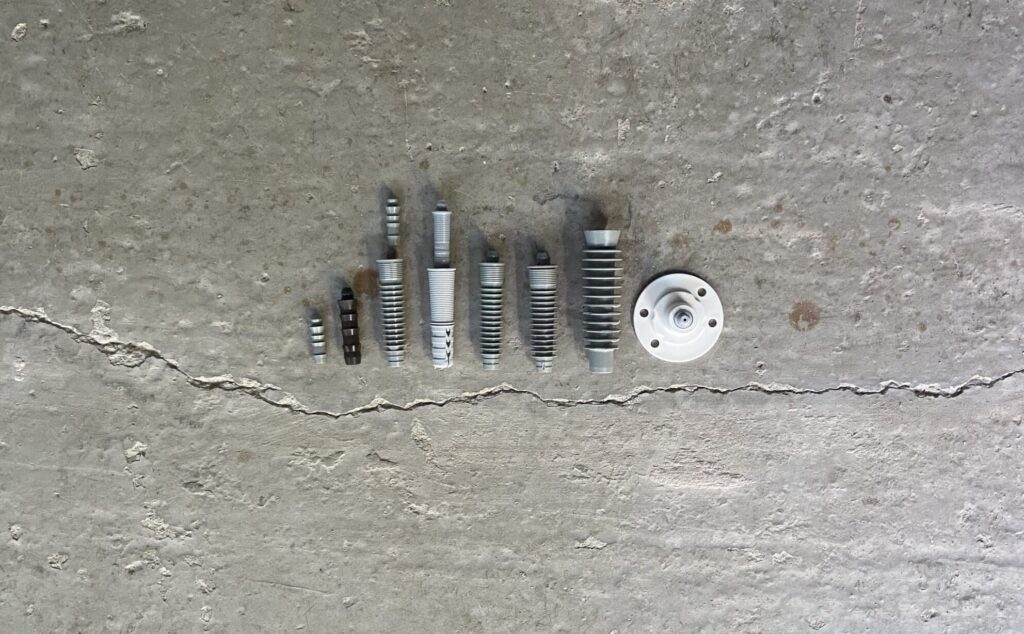 An injection port, also called injection-packer, is the connecting piece between your injection pump and the structural element for the injection of various sealing chemicals, including Epoxy resins (EP), Polyurethane (PU/PUR/SPUR), Acrylate Gel…
MABI injection packers can be used for many concrete repair applications like crack repair and leak sealing. Despite being a solid material and having regular use in construction projects, concrete is susceptible to cracks and deterioration over time.
Concrete cracks occur for several reasons, before repairing the concrete, it is essential to know where the problem originates from.
This information allows for proper treatment with the appropriate concrete repair equipment.
With their built-in backflow prevention system, MABI injection packers are versatile and cost-effective, saving contractors time and money on construction sites. When it comes to the different needs for concrete repairs, these hammer-in injectors are quick and easy to install. They can be used with most epoxy and polyurethane resins used for repairs. MABI injection packers are an easy choice for most concrete repair projects. 
Using plastic allows us to mold the head of the injector directly onto the packer during manufacturing. This integrated design means the technician will spend less money on additional fittings for the different packer heads. Likewise, this design can also save technicians time. The integrated packer heads mean technicians will spend less time screwing on the right fittings. Overall this design means fewer pieces, less time sorting through equipment, and a faster injection process. 
Concrete friendly & trusted
Another fundamental advantage of MABI injection packers is that they are plastic. Strong and resistant, these packers can handle low to medium pressure injections and won't deteriorate or rust over time. In many cases, the epoxies or resins require a certain amount of time to cure or set.  Removing the packer too early after the product injection may cause the resin or epoxy to react improperly. This premature removal could result in reinjection or wasted product as leaking may occur from the injection site. To prevent this, MABI injectors are usually left inside the drill holes following the injection process and covered with cement. With MABI injection packers, there is no need to worry about the materials rusting and breaking down within the walls. In addition to their resistance, MABI injectors are already used and trusted worldwide. They are easy to use and install in concrete and conveniently adapt to most professional injection pumps. Whether for structural concrete repair, leak sealing, or even injection waterproofing, MABI injectors are perfect for the job. 
Types of MABI injector packers
MABI currently offers several types of injection packers on the American market. They are hammer-in injectors that use MABI's backflow prevention system with different diameters. Inside each injector is a metal ball that seals off the packer after injection, ensuring zero leakage and minimal product waste. The connection offered is zerk fitting. Most injection equipment can connect to MABI injection packers and inject at varying pressures with the correct hose/ gun fitting. The maximum pressure may vary depending on the type of structure and its condition. However, MABI recommends a maximum pressure of 800 psi for most packers except the high-pressure injection packer with 1500 psi maximum to ensure the safest application and to not damage the structure. 
Due to their design and pressure limit, MABI injectors are best for concrete structural bonding, certain leak seal repairs, and curtain injection.