PROFESSIONAL EQUIPMENT FOR TERMITE CONTROL
A BREAKTHROUGH SYSTEM, EASY TO USE, RELIABLE AND COST EFFECTIVE FOR YOUR POST-CONSTRUCTION TREATMENTS
MABI injectors have a patented backflow prevention system to prevent any splashback
During the high pressure injection, the metal ball leaves the passage free. With the counter-pressure, the metal ball closes the passage to avoid any splashing of chemicals from the injected hole or the adjacent holes.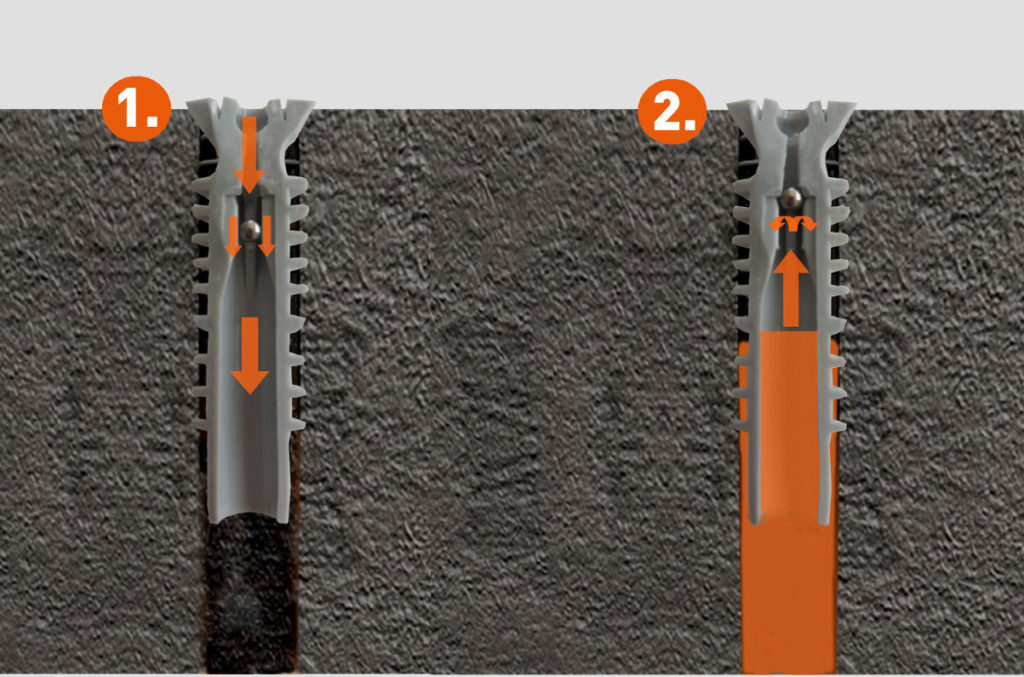 AdAPTABLE to the main equipment available on the market: B&G, JD9, Actisol...
We reckon you might have your habits and you have probably already invested in a good injection equipment. No big deal, you can use MABI injectors with your current system. What you need is a simple injection tip or an adapter. Watch this short video to learn more about how we adjust our tools to your needs.
TheY are available in different sizes and colors
MABI injectors have been designed in three sizes (1/4″, 3/8″ and 1/2″) and four different colors (gray, brown, beige and white) to match all concrete floors, brick mortars or wooden parts of your customer's buildings.

BENEFITS OF THE MABI INJECTOR
Whether you are a technician or a company owner in the pest control industry, a residential or a commercial customer, the MABI injector offers you many advantages. Find out more in the following tabs.
Technicians
SAFETY
No splashing of liquid pesticide
Less physical labor for fewer injuries
SPEED
No backflow = no time-consuming cleaning
Higher pressure of injection thanks to the one-way system and the tight seal for a lower application time
No need of patching after injection
Replenish system: no re-drilling if reinjection
EFFICIENCY
No backflow: the chemical is where it should be for a more thorough treatment
Time tested method: proven performance and precision application
EASY TO USE
Adaptable to your current equipment and with your liquid pesticide 
Support: how-to videos online + chat with us for personalized advices and training
SAVE MONEY
Reduce call backs and increase sales
Company owners
SAFETY
Limit regulatory exposure: safety of technicians, the consumer and minimal risk of environmental contamination
SPEED
Increases productivity
EFFICIENCY
No backflow: the chemical is where it should be for a more thorough treatment
Time tested method: proven performance and precision application
EASY TO USE
Easy to implement
Fast delivery: Stock in the USA, order on Amazon/Termitestore
SAVE MONEY
Reduce labor cost and chemical waste: increase profits
Higher customer retention rate with this re-usable system
Keep a competitive edge with a revolutionary termite application tool
Improve employee satisfaction and delight customers
Residential customers
SAFETY
No spilling in the structure and the surrounding environment to protect customers and employees
Greener method: controlled and precise injections for less chemical
SPEED
Faster and cleaner treatment for less disturbance
EFFICIENCY
Benefit from the same method than used in the most beautiful places including Notre-Dame de Paris
EASY TO USE
Different colors to match your house
SAVE MONEY
The exterminator will be able to work faster with no mess
Commercial customers
SAFETY
No spilling in the structure and the surrounding environment to protect customers and employees
SPEED
Easy and fast ongoing maintenance: the MABI system is set up for long
EFFICIENCY
Benefit from the same method than used in the most beautiful places including Notre-Dame de Paris
SAVE MONEY
The Pest Control Technician will be able to work faster with no mess