TERMITE CONTROL: HOW DO MABI INJECTORS WORK
mabi injectors for termite control:
A BREAKTHROUGH SYSTEM, EASY TO USE, RELIABLE AND COST EFFECTIVE FOR YOUR POST-CONSTRUCTION TREATMENTS
Mabi injectors are professional tools for termite extermination, pest control, leak-seal waterproofing and any other liquid or foam application when an even and safe distribution of the product is required.
How to use the Mabi injectors? Only hammer-in the injectors into the drilled holes and inject your product through them.
MABI injectors have a patented backflow prevention system to prevent any splashback during termite control
How do Mabi injectors work? Firstly, each Mabi treatment plug has a built-in check-valve, a one-way metal ball. During the high pressure injection for termite control, the metal ball leaves the passage free. With the counter-pressure, the metal ball closes the passage to avoid any splashing of chemicals from the injected hole or the adjacent holes.
No backflow of chemical means safety for the technician and the homeowner, and also success in your termite control.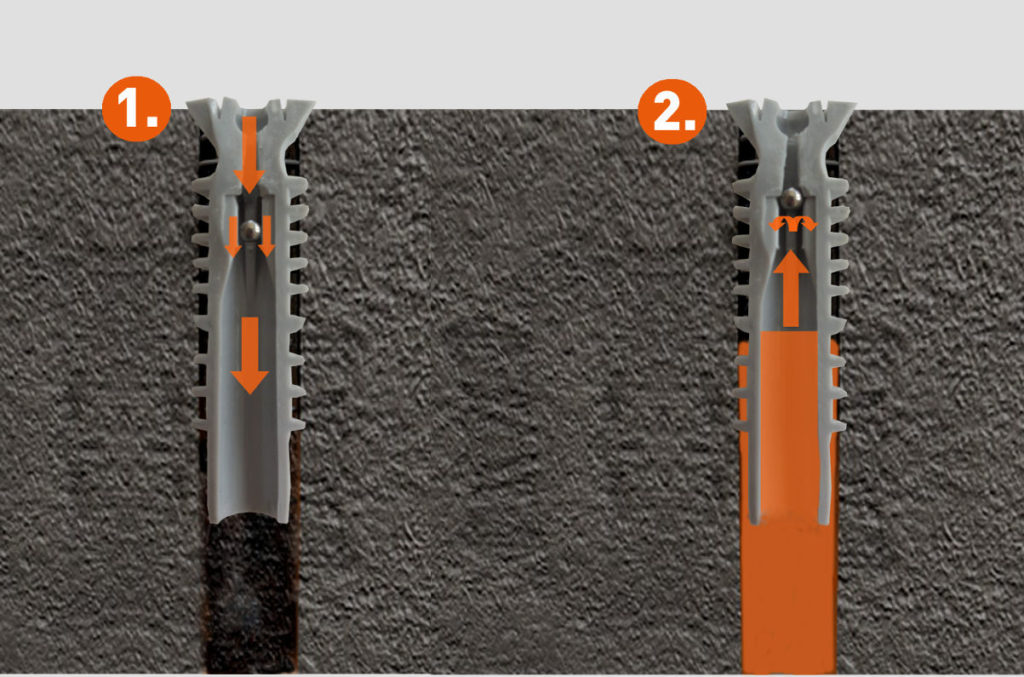 AdAPTABLE to the main equipment available on the market: B&G, JD9, Actisol...
How to use the Mabi injector? We reckon you might have your habits and you have probably already invested in a good injection equipment for termite control. Nonetheless, you can use MABI injectors with your current system. What you need is a simple injection tip or an adapter. Watch this short video to learn more about how we adjust our tools to your needs and select your injection tip. The same injection tip works with all Mabi injectors. 
MABI Injectors available in different sizes and colors
Which MABI injector should I use? These termite plugs have been designed in three sizes: 1/4″, 3/8″ and 1/2″. Furthermore, four colors are avalaible: gray, brow, beige and white to match all types of floors (concrete, wood, …). Hide and protect Mabi injectors with removable caps also available in different colors. They allow you to retreat the holes if needed without drilling again. 

BENEFITS OF THE MABI INJECTOR
Do the MABI injection plug work for me? Whether you are a technician or a company owner in the pest control industry, a residential or a commercial customer, the MABI injector with its built-in backflow prevention system offers you many advantages. Find out more in the following tabs.
Technicians
SAFETY
No splashing of liquid pesticide
Less physical labor for fewer injuries
SPEED
No backflow = no time-consuming cleaning
Higher pressure of injection thanks to the one-way system and the tight seal for a lower application time
No need of patching after injection
Replenish system: no re-drilling if reinjection
EFFICIENCY
No backflow: the chemical is where it should be for a more thorough treatment
Time tested method: proven performance and precision application
EASY TO USE
Adaptable to your current equipment and with your liquid pesticide 
Support: how-to videos online + chat with us for personalized advices and training
SAVE MONEY
Reduce call backs and increase sales
Company owners
Residential customers
Commercial customers