Connecting and helping the concrete and masonry industries for 49 years, World of Concrete will take place in the Las Vegas Convention Center on January 17th to 19th, 2023. This is a must-attend even for professionals in the concrete industry. It's your chance to discover the latest technology and tools in the field as well as an opportunity to receive the newest training in concrete and masonry. Over the course of this 4 day event you'll get to meet and chat with other professionals in the industry sharing knowledge and making connections.


World of concrete welcomes around 1,500 exhibiting companies (MAPEI, SIKA, Caterpillar Inc., National Flooring Equipment etc.) as well as over 60,000 professionals from all over the world (engineers, architects, distributors, equipment producers, manufacturers etc.). Taking place in the North, Central, and South Halls and the Silver and Bronze lots, World of Concrete extends over 700,000 square feet.
The areas are organized as follows:
Central Hall
Material Handling
World of Concrete General
World of Masonry
Work Truck LIVE!
North Hall
The Producer Center
Technology for Construction
Precast
Concrete Masonry
Concrete Reinforcement
World of Concrete General
Cement Production Pavilion
AAC – Autoclaved aerated concrete
South Hall
Concrete Repair & Demolition
Concrete Surfaces & Decorative
Silver Lot
Bronze Lot
Outdoor Events
Outdoor Exhibits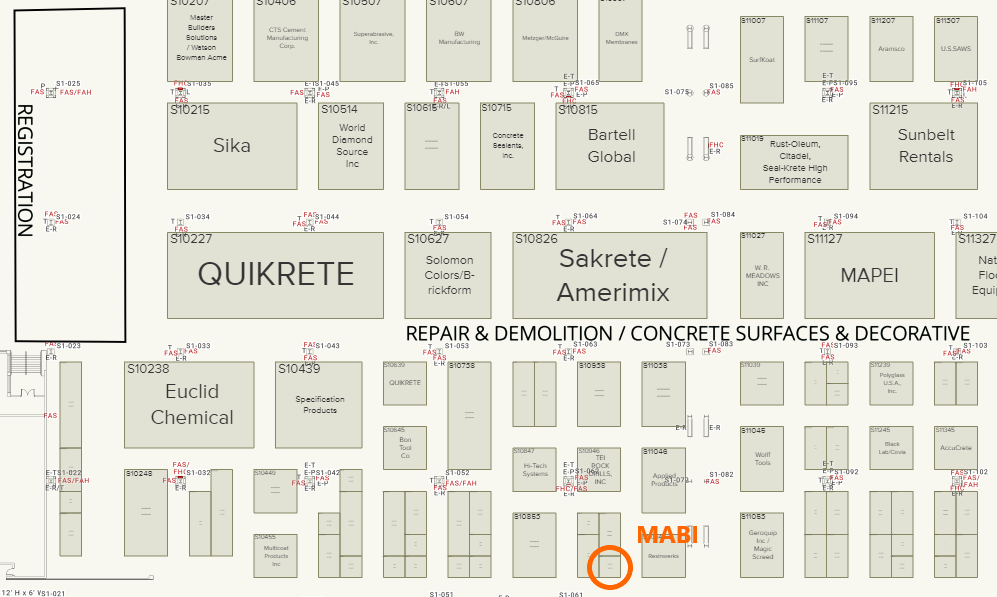 Come meet MABI at booth S11056 in the South Hall.